The Twin Cities Men's Center provides resources for men seeking to grow in body, mind, and spirit; and advocates for healthier family and community relationships.
Men Talk - Aug/Sep edition now online
Read the official newsletter of the Twin Cities Men's Center online edition. Men Talk, a regional, bi-monthly newsletter features a comprehensive Events Calendar of programs and schedule of support groups, informative articles, poetry, an occasional resource directory, book reviews and other information about special events and news covering men's groups in the Twin Cities. Men Talk has appeared in one form or another since 1977.
VOLUNTEERS Needed for the TCMC State Fair Booth!
While networking at the MCF - Stillwater State Prison Transitions Fair, Tom M and Tom W spoke to a representative from NAMI, (National Alliance on Mental Illness), who offered TCMC a free booth at the State Fair on Monday, August 28th. The Outreach Committee Meeting agreed to take on this project. While we have some VOLUNTEERS, we need others can support a 3 or 4 hour shift. TCMC will have give-aways similar to the International Men's Day last year, and a drawing will be held for a free Anger Management course to one lucky winner! Contact our Office Manager, Tom Maher, to volunteer for this event, tomm@tcmc.org or 612-822-5892.
Being a Dad: How to Manage Difficult Issues
Weds. Sep. 20 to Oct. 11, 2023, 7:00 - 8:30 pm
Where: TCMC 3249 Hennepin Ave S, Ste. 55

Open to Men only. Registration Required
As a dad, are you dealing with difficult issues? Issues in our families, such as a death, a separation, a divorce, financial problems, job loss or demands, health or others can undercut our ability to be the dad we want to be. In this class, we'll identify complicated personal issues in fathering, select several to focus on, and develop plans for effectively managing them. The class is chiefly built on group discussion and peer support from participants, providing opportunities to learn from our experiences and insights. Join us, whether you are a biological dad, a single dad, a step-dad, a foster dad, or a granddad, for practical strategies and tips on becoming a better dad.

The facilitator for the course, Tim Delmont, is offering this in-person class to all men who are dads or thinking about being dads, 
ENRICHING YOUR LIFE 1.0
Thursday, Sep. 21 to Oct. 26, 2023, 7:00-8:3 pm
Where: Hybrid (online and in-person at TCMC 3249 Hennepin Ave S, Ste. 55)
This is a guided workshop in self-worth, acceptance, personal congruence and communication based on the teachings of Virginia Satir. During these six 90-minute sessions, coping stances, and other non-congruent behavior will be addressed experientially. Possible blockages to inner resources, including latent survival rules and defensive behaviors, will be explored.
Although participants will be expected to read a Satir-based workbook, this series is not intended to be "book learning" but primarily experiential. The Course tuition is $60 for this pilot program. The workbook Your Life ($20), is available to order online at satirglobal.org
The facilitator for the course, Andy Baltins, is a certified Satir Coach and has been a facilitator of numerous sessions of the Men's Center's anger management program. He views the Satir process as moving beyond anger management to becoming more fully human. Andy is not a psychologist or therapist. This workshop is psycho-educational, not psycho-therapeutic. He invites you to learn together the journey towards congruence.
The Twin Cities Men's Center is continuing to offer a much-requested follow-on class for graduates of our popular Men Helping Men with Anger Management classes. "Beyond Anger: Reclaim Your Fire!" is an expert-guided, peer-supported, online-live course that runs for 7 weeks on Mondays 6:30-7:45pm CST, and is offered periodically throughout the year. Adults, all-genders, all-faiths welcome.
Read what a recent participant said about taking this course:
"With just the first class, BEYOND YOUR ANGER blew me away with how much I learned about myself and where my anger evolves. Multiple classes after I began to connect the dots and suddenly, everything clicked. Friends and family have commented on how much my attitude about anger, demeanor, and how I handle myself in stressful situations has changed because of the knowledge and insight that I have learned from this class. If you want to get to the root of your anger and learn more about yourself, then this class is definitely for you!" - Kyle S.
ANGER MANAGEMENT COORDINATOR Job Opportunity
We are now accepting applications for TCMC's next Anger Management Coordinator. The AM Coordinator is responsible for administration of the program in all of its aspects, including program organizing and scheduling of classes, finding available facilitators, han- dling inquiries from men interested in taking the class, recording registrations, and collecting fees. Please visit TCMC.org to read the full job description or contact our Office Manager, Tom Maher, at tomm@tcmc.org.

The Perspectives Exchange Laboratory (PX Lab)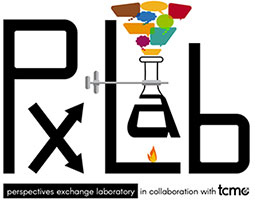 Not being heard? Willing to listen?
Open to exchanging perspectives through a shared media experience? The PX Lab is the place for you!
Click on the PX Lab logo to find out how your perspective can shape our latest collaboration.
Committee Volunteers
If you have an interest in volunteering for TCMC please consider joining a committee.  We are looking for committee members for our Fundraising, Outreach, and Support Group Committees.  Please contact the TCMC office to be put in touch with committee chair are you are interested in serving.
Fundraising and Contributions Help Needed
Attention TCMC members and supporters, the TCMC Fundraising and Contributions Committee can use your help.  If you have an interest or experience in Fundraising and are willing to volunteer some of your time; please contact Benjamin Alfaro, our Fundraising chair.
TCMC on the Amazon Smile program
The Twin Cities Men's Center is listed as a charitable organization on Amazon Smile. This means when any Amazon customer who registers with Amazon Smile and selects the Twin Cities Men's Center as their charitable organization of choice, 0.5% of any qualifying purchase will be donated to the Twin Cities Men's Center. You can sign up to help us out at < https://smile.amazon.com/>.
Men Help Other Men at the Twin Cities Men's Center.
Do you have ideas for a unique program, workshop, support group or other expertise to offer? Please let us know.
Volunteer to keep the spirit of helping one another moving forward.
Read and distribute Men Talk.