The Twin Cities Men's Center provides resources for men seeking to grow in body, mind, and spirit; and advocates for healthier family and community relationships.
Men's Brunch
February 15 - Cancelled
There is no scheduled 3rd Sunday Men's Brunch in February this year for lack of a host.
Next brunches:
Sunday March 19th at Stephen Sewell's in St. Paul:
Sunday April 16th at Andy Mickel's in Minneapolis.
TCMC Annual FACILITATOR Training
Saturday, February 25, 2023 at 11:30 am
Facilitator Training is going to be held on Saturday, February 25th from 11:30 to 1pm at TCMC.  This is very valuable to all of our facilitators and backups, and we HIGHLY encourage you to attend this if you haven't been through the training already.
Please welcome Derek Gegner as the new Facilitator Liaison.  He will be taking over this role of communicating with you.  He was elected to full Board Director at our Annual Meeting over the weekend.  Please let him know if you have any questions, comments or concerns regarding your groups or the board.
2023 TCMC Annual Meeting Highlights
On Jan 7, 2023, the members of TCMC gathered in a hybrid (in-person/zoom) meeting to review the successes and challenges of the past year, elect new board members, and begin planning for our 47th year of operation. In brief, we weathered the challenges of the pandemic years and have returned full operations. Thanks Chair Tom W. for leading the way!
Most Programs, groups and classes have resumed meeting in-person as well as online video in a hybrid format, which has had the positive side-effect of widening our participation nationally. Recently, one of our groups had men from 5 different states, and our celebrated level 2 Anger Management program now reaches men across Minnesota. We also began a new Beyond Anger: Reclaim Your Fire class for men, again leading the way in men's work. Thanks Dan G.!
Financially, we've recovered from a couple lean years and had a successful fall fund-raising effort. While we are out of the woods, our operation is still lean... but the Treasurer reports we are in good standing for 2023. We welcome Dan M. as our new Treasurer, and Jae A. as our new bookkeeper. And much thanks to all those who donated generously!
Our Outreach program resumed presentations in prisons, although pandemic protocals still make the process dificult. We hope this will ease in the coming years. Men Talk transitioned to entirely digital printing and automated mailing after a couple bumpy issues. That will save TCMC money over time, and promises faster delivery of our news. And our website anticipates new improvements to meet the needs of men across the internet. Thanks Tom S. for your ideas!
Finally, Tom M. continues steadfastly managing the office, handling the calls and emails, posting on social media, and a thousand other things, keeping all the Administration running smoothly. We couldn't do it without you. Thanks Tom M!
Mondays online January 23 - March 6 at 6pm CST. The Twin Cities Men's Center is continuing to offer a much-requested follow-on class for graduates of our popular Men Helping Men with Anger Management classes. "Beyond Anger: Reclaim Your Fire!" is an expert-guided, peer-supported, online-live course that runs for 7 weeks on Mondays 6-7pm CST, and is offered periodically throughout the year. Adults, all-genders, all-faiths welcome.
Read what a recent participant said about taking this course:
"With just the first class, BEYOND YOUR ANGER blew me away with how much I learned about myself and where my anger evolves. Multiple classes after I began to connect the dots and suddenly, everything clicked. Friends and family have commented on how much my attitude about anger, demeanor, and how I handle myself in stressful situations has changed because of the knowledge and insight that I have learned from this class. If you want to get to the root of your anger and learn more about yourself, then this class is definitely for you!" - Kyle S.
ANGER MANAGEMENT COORDINATOR Job Opportunity
We are now accepting applications for TCMC's next Anger Management Coordinator. The AM Coordinator is responsible for administration of the program in all of its aspects, including program organizing and scheduling of classes, finding available facilitators, han- dling inquiries from men interested in taking the class, recording registrations, and collecting fees. Please visit TCMC.org to read the full job description or contact our Office Manager, Tom Maher, at tomm@tcmc.org.
Men's Center for Hybrid and In-Person Support Groups, Wednesday Presentations, Anger Management Classes, etc.
We are working with facilitators to enable them to communicated directly with support group participants on this website.
The TCMC Gay lssues Support Group has been the catalyst for pioneering a more effective hybrid (zoom+in-person) group meetings with new tech. We have extended that for other groups as well.
Groups that rent space (12-step groups & MKP for example) have been allowed since the week of July 19th, 2021. They should provide sufficient masks for their participants..
Anger Management classes will begin to be in-person and in hybrid mode as well as Zoom-only in 2023.
New Support Group for Male Victims of Domestic Abuse
The Twin Cities Men's Center, in conjunction with Southern Valley Alliance, is beginning a Support Group via Zoom for men who have been the victims of any type of domestic abuse. Please look for more details to follow!
Men Talk - February/March edition now online
Read the official newsletter of the Twin Cities Men's Center online edition. Men Talk, a regional, bi-monthly newsletter features a comprehensive Events Calendar of programs and schedule of support groups, informative articles, poetry, an occasional resource directory, book reviews and other information about special events and news covering men's groups in the Twin Cities. Men Talk has appeared in one form or another since 1977.

The Perspectives Exchange Laboratory (PX Lab)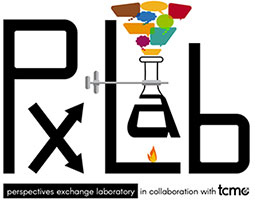 Not being heard? Willing to listen?
Open to exchanging perspectives through a shared media experience? The PX Lab is the place for you!
Click on the PX Lab logo to find out how your perspective can shape our latest collaboration.
Committee Volunteers
If you have an interest in volunteering for TCMC please consider joining a committee.  We are looking for committee members for our Fundraising, Outreach, and Support Group Committees.  Please contact the TCMC office to be put in touch with committee chair are you are interested in serving.
Fundraising and Contributions Help Needed
Attention TCMC members and supporters, the TCMC Fundraising and Contributions Committee can use your help.  If you have an interest or experience in Fundraising and are willing to volunteer some of your time; please contact Benjamin Alfaro, our Fundraising chair.
TCMC on the Amazon Smile program
The Twin Cities Men's Center is listed as a charitable organization on Amazon Smile. This means when any Amazon customer who registers with Amazon Smile and selects the Twin Cities Men's Center as their charitable organization of choice, 0.5% of any qualifying purchase will be donated to the Twin Cities Men's Center. You can sign up to help us out at < https://smile.amazon.com/>.
Men Help Other Men at the Twin Cities Men's Center.
Do you have ideas for a unique program, workshop, support group or other expertise to offer? Please let us know.
Volunteer to keep the spirit of helping one another moving forward.
Read and distribute Men Talk.